1. Infobip configuration in AFRUS
Enter the ORGANIZATION SETTINGS section through the name menu
Once in Organization Settings, go to INTEGRATIONS, and click CONFIGURE in the INFOBIP box
2.PUBLIC KEY settings


Then, you will need to configure
the PUBLIC KEY

For this you must enter your INFOBIP account and follow the following route:
HOME / MANAGE API KEY / NEW API KEY
When you have your new API KEY, click on PUBLIC KEY and it will automatically be copied to the clipboard
Then you go to
Afrus / Infobip / Public Key
then you will paste the Public Key and then you click save.
3. Event settings
EVENTS
It is each of the actions that the donor performs through our form.
A donation

A new record

A subscription
These events must be configured to have the traceability of the behavior of your donors or leads.
Once the Public Key is configured, you will start with the creation of the events you need.
Click on Add New to start.
The first thing you should do is select the Event you want to configure
Luedo, you will need to configure the DEFINITION ID.
This ID is extracted from the INFOBIP account
When you are inside INFOBIP, follow this path to get the DEFINITION ID.
You must create an event DEFINITION. Click on the indicated button.
You must configure the DEFINITION, with the name as it appears in Afrus.
You will put the ID you want as well as the description.
 d ion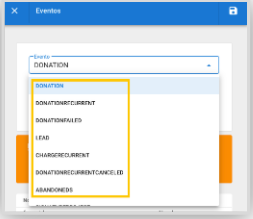 Then, you go to Afrus and paste the DEFINITION ID.
4. Event properties
Finally, you must configure THE PROPERTIES OF THE EVENT.
Write the NAME and TYPE in INFOBIP, just as it appears in AFRUS.
Finally you click on SAVE
The process must be repeated to configure all the other properties. (Slide 12 to 13)
Once the event is saved, it will be listed.
The process must be repeated with each of the events you wish to activate. (Slide 5 to 14)