AFRUS allows you to have a report on each of your campaigns, you will be able to obtain the behavior metrics depending on a selected time filter.
1. What Kind of Metrics can I see:
| | |
| --- | --- |
| Lead Conversions | Any registration made using an AFRUS form |
| One-off donations | All approved one-time donations |
| Recurring Donations | All old recurring donations successfully cashed |
| Charges made | The accumulated amount of the collections of the recurrences |
| New subscriptions | New recurring donors |
| Cumulative total | Accumulated amount of your one-time and recurring donations |
| Abandoned Donors | Warm leads, with the intention of donating without completing the donation process. |
| Form performance | Conversion comparison for each form that is part of the campaign. |
| Latest Conversions | List of last donors of your campaign |
Remember that the result varies depending on the date filter is chosen:
VIDEO.
2. The metric boxes show you in numerical figures the result of your campaign collection:
3. You can also export donor list files (last conversions) or abandoned donors of your campaign by clicking the blue EXPORT button:
4. Then, you must select the file of your download and click on EXPORT: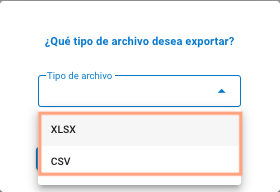 5. Finally, go to the DOWNLOADS section to download the file to your desktop.